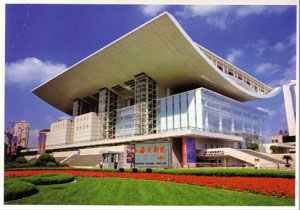 When Carter Larsen returned July 1st, 2010 from his triumphant Asian tour all eyes were on China. Larsen had just given the world premiere of his largest scale composition to date, Mass Ascension at his June 21 concert in Shanghai. Significantly, the Shanghai concert, staged during the 2010 World EXPO launched Larsen's annual series at the Shanghai Grand Theatre, which to many is now the Carnegie Hall of the East.
This concert was broadcast on both the Shanghai Arts Channel and the Shanghai International Channel and marked the Asian launch of the Carter Larsen Competition. It was following this triumphLarsen began his Retrospective Recording Series. For theRetrospectivescheduled eight days followings his tour, the composer had planned recording nine tracks from his touring program plus an additional sixteen original compositions. (Larsen recorded entirely by memory)
After the composer had finished recording 25 tracks (21 of them original compositions, and 18 of them new, previously un-recorded and in most cases un-premiered compositions), the producers found there was two hours to spare.
Larsen had already recorded four times the average material most artists record per session, according to engineer John Kurlander. For the remaining time Larsen asked the select audience and other members at the session to choose randomly Bach's Prelude and Fugues from the Well-Tempered Klavier, from which he would improvise.
This produced thirty more recordings, now of improvisations inspired by Bach, where Larsen took themes and in real time, very quickly expanded on them harmonically, melodically and rhythmically to produce the most extraordinary original music: a further frontier to his Fantasia Suite. Larsen stresses these preludes only "inspire" him and are "not intended to resemble Bach." Upon questioning he admitted, "It must be something along the lines of looking into a crystal ball."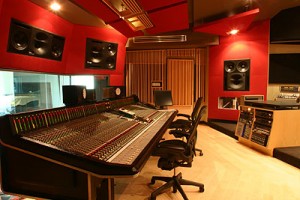 Larsen's recordings of improvisations inspired by Bach (available on Montage Media), herald a new expression: a realm of not only different processes (improvised rather than composed) but also transcendence into new tonal concepts and style of music itself.
In the 2010 sessions, Larsen also recorded Saint-Saëns and Liszt, both composers Larsen championed earlier in his career during the 80's and early 90s in London. Along with the new recording of Saint-Saëns' Allegro Appassionato (his previous 1984 recording was on Romantic Rarities), he recorded Liszt's Venizia e Napoli, both available on Montage Media.
Altogether during the two-day session Larsen recorded 55 tracks. These recordings represent a summation not only of his recorded career but also of his development as a composer. As a Steinways' artist, Larsen made the decision to record on a Steinway model 'D' concert grand piano along with the acoustics of the Raitt Hall at Pepperdine University, Malibu, California. This music is not a stranger to the Raitt Hall as Larsen has experimented with the hall's acoustics in live concerts and recordings of his music over the last fifteen years.
GRAMMY® winning recording engineer, John Kurlander served as the perfect complement to Larsen's approach; and working closely as a team with the producers was able to capture and bring to light Larsen's concepts and ideas. This is in no small way due to Kurlander's background as EMI's chief recording engineer; recording many of the top European orchestras and soloists as well as his regular appearance on the credits of Hollywood's major film scores.
Executive producer to the project is Omega Medina, former Twelve-year Senior Manager Classical for the GRAMMY® Awards. Medina's expertise draws from her vast experience of musical wisdom as an opera singer backed by a Juilliard education. Her invaluable mentoring and decisions from performance and repertoire to mastering at Universal Music has shaped the backbone of these 2010 recordings.
LARSEN AND SHANGHAI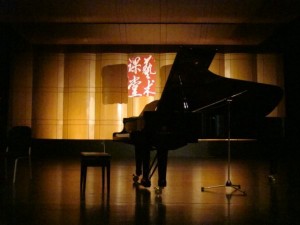 The program of these sessions documents the 2010 EXPO launch of Larsen's Grand Theater Concert Series in Shanghai. The composer was received with the acclaim of a rock star at the Shanghai Grand Theatre, perhaps China's most prestigious and coveted of performing venues. He performed the classics, original compositions, and improvisations.
Larsen was seen as a cultural icon, for many, dramatically advancing classical music into the future. During his stay he had a multitude of interviews including CNN. This was apparently the first time CNN had interviewed an artist for the Grand Theater. According to sources, Larsen's concert was also the fastest selling of the season and created the most publicity of any other program at the Grand Theatre during the first half of 2010.
The concert was covered by two television stations, which broadcast to a total estimated audience of 500 million and included the Shanghai Arts Channel filming a documentary of the concert. Endless media interviews were seeking to find the composer's "secret" to his latest talents which included interactive improvisations with the audience as well as the incorporation of today's popular and cinematic trends into his ground-breaking Fantasia Suite.
Ten different media photographers including two television crews formed the paparazzi highlighting the buzz surrounding Larsen's new music as it hit TV audiences in Mainland China. He was literally mobbed after his Monday night performance with fans scrambling for autographs. One woman was so intent on reaching him mid-performance that she rushed the stage! Such overwhelming enthusiasm is a unique phenomenon in the classical music world.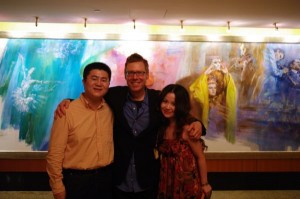 The composer was immediately offered extensive tours across Asia. Numerous sponsors came forward to assist in the promotion of Larsen's distinct talents, subsequent new music genre and its impact on the cultural world at large.
Larsen's popularity is fueled by China's 100 million pianists making the composer's rise to fame in China's massive cultural "piano mania" all the more powerful and pointing towards a lasting legacy through the performing and recording this new genre by its multitude of pianists.
The pinnacle of media intrigue for his Asian tour was the documentary filmed by the Shanghai Arts Channel during Larsen's 2010 performance at The Grand Theatre. This required a full camera crew shooting during the entire concert day, capturing, rehearsals, performance and the televised interview. It was in the wake of this turmoil Larsen recorded these pieces.
The insatiable demand for Larsen's new music and the fascination for the talents of living composer of his stature were reflected in both his first and second appearances in Shanghai. The composer was offered unsolicited sponsorship not only for his own performances but also sponsoring for other artists performing his works. This included one concert agent's offer for 12 concerts in Shanghai alone over the next year. It is unfortunate Larsen's composing schedule does not allow time for such exposure.
Indeed the ripple of Larsen's fame has not only touched the 100 million piano players inside China but also an Asian classical listening audience of more than a billion which by many accounts surpasses the listening audience of popular music in the west.
SUMMARY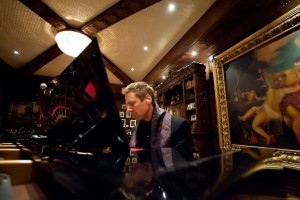 Both co-producer Anya Ivanova and myself are pianists who have studied with the composer and performed his works and are intimately familiar and aware of his performing practices and teachings. Larsen's dedicated observance of his classical educational lineage includes not only John Adams but also many of history's greatest composers such as Mozart, Haydn, Beethoven, Brahms, Chopin, Liszt and Ravel. This combined with his acute awareness of popular music culture has produced the extraordinary musical synergy manifested in these editions and recordings.
Larsen's performing career of over 500 concerts including as soloist with the major orchestras such as the London Symphony Orchestra and Royal Philharmonic Orchestras has laid the foundation for his performances, projected to spread his music via the wave of "piano mania" emanating from China.
Larsen's appearances have extraordinary public appeal with consistent ovations when he performs as well as the highest praise from critics. Performances of his own compositions elevate the listener to a magical new world different from music in circulation at any time in history.
Additionally, many classical pianists and conserv-atory graduates are studying in depth and perform Larsen's music to the same degree as Ravel's or Chopin's. Pianists are touring various countries and recording Larsen's Fantasia Suite with resounding success. Popular demand led to the launch of the Carter Larsen Competition; offering pianists all ages and nationalities the opportunity to perform in television and film.
It is the belief of musicians and scholars that this combination is birthing a movement with a legacy that will encompass generations to come. Omega Medina, executive producer to these recordings, states, "Larsen is a classical rock star." Sheryl Carlin from the Paramount Music Department defines Larsen as "the Chopin of our age."
In conclusion, this mixture of the music, the times and associated promoters has produced the following volumes and recordings. Full of inspiration and ideas, with music way "beyond the lines" of both the classics, original compositions and in the case of the Bach improvisations – a step further yet.
This originality places Larsen in an exclusive territory. At the time of writing, there are no known composers today of his caliber and background composing and performing piano music with this degree of originality and sophistication. Yet equally inspiring is Larsen's position at the classical forefront as an improviser. Larsen has unleashed extraordinary talents in these eagerly anticipated and yet unchartered musical territories.
Karen Meler, Producer
Los Angeles, July 2010